MUD 188
EHRA was tasked with designing a solution that addressed water quality and public safety as well as improve the site for future recreation use.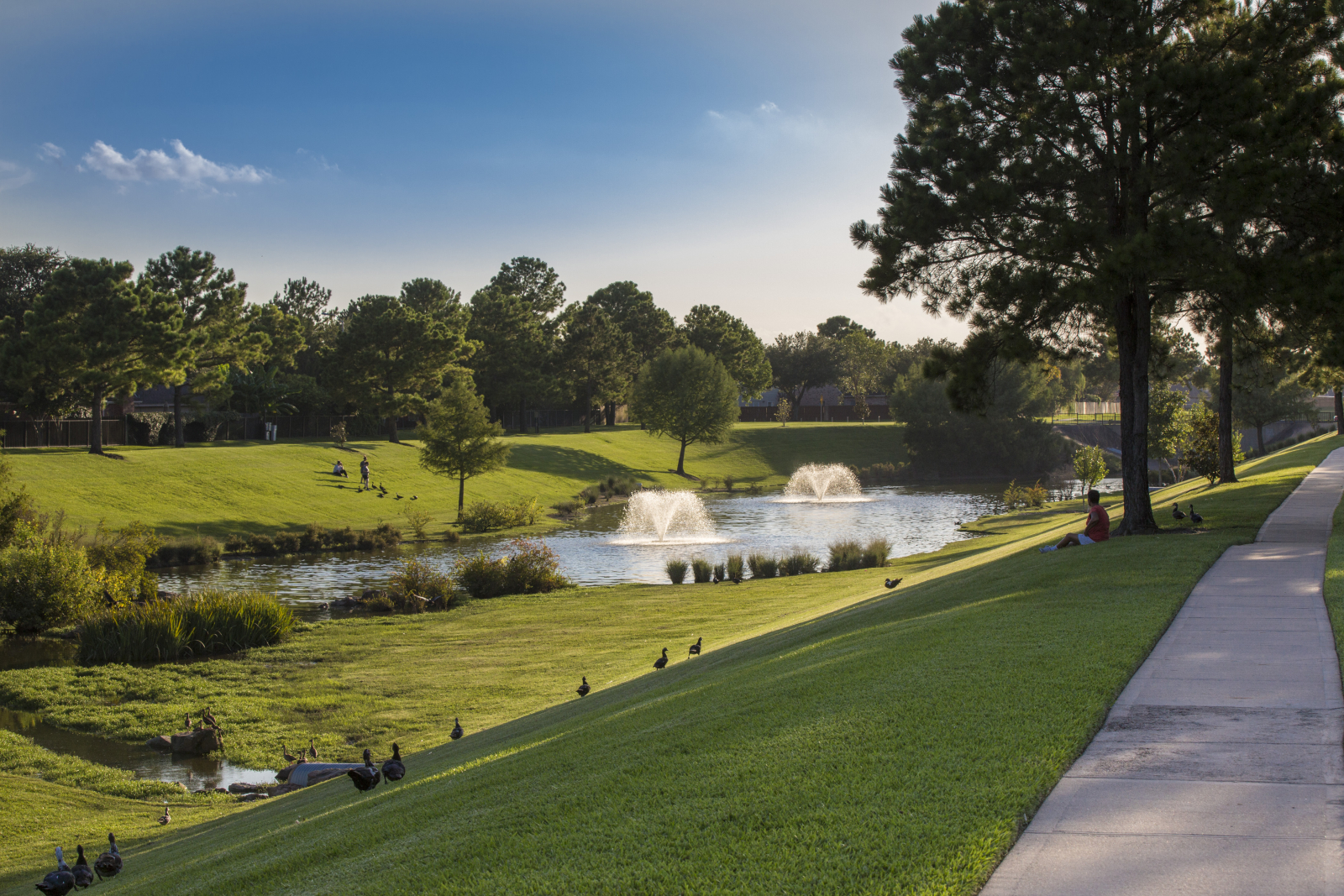 Project Overview
Improving a Popular Park
As the first phase of the District's Parks Master Plan, this project began initially as a maintenance issue within an existing dry detention basin. EHRA planners, hydrologists and landscape architects worked together to propose an alternative use for the space, re-developing the basin into an amenity pond. EHRA carefully selected native plant materials for both their ability to survive in the harsh conditions of the basin as well as providing filtration for improved storm water quality.
Water quality and public safety were the main concerns of the District's board members, so EHRA's mission was to design a solution that addressed both of these concerns as well as improve the site for future recreation use. Phase one of this solution was to create amenity ponds by excavating the wet bottom, thus reducing difficulties associated with maintenance. Phase two of the project was the re-naturalization of the facility by choosing native plants that could handle typical weather conditions within the basin as well as possible 48 hour periods of inundation. Over 40 native species of trees, shrubs, perennials, and grasses were chosen for the site, as well as incorporating large boulders, slope stabilization and 3 aeration fountains.
Just three months after installation was completed, the facility was called upon to do its job as over 18 feet of storm water runoff was stored in the basin following a 10-inch rainfall event. Days after the water receded, there was no damage to the plant materials or landscape features, proving EHRA's methods and design decisions to be effective. As the landscaping matured, the renovated ditch had become a popular recreation area as evidenced by increased use of the trail loop around the project high-bank. Additionally, many birds have routinely visited the project which is a testament to the health of the ecosystem.
The success of the revitalization resulted in additional trail and park improvements authorized by the District and implemented by EHRA. Additionally, the residents' happiness with the project resulted in a rededication of the project to become the Lou Mautz Greenway, winning an Association of Water Board Directors Project Award in 2017. Over the life of the project, several EHRA associates have led our team, most recently by Adam McGovern, ASLA.
Adding beauty, functionality and value with
Landscape Architecture
SEE EHRA'S LATEST NEWS
23 Mar 2023
On paper, I am a Senior Survey CAD Technician. In reality, who I am, as a person and the work that I do, lies far beyond that measure. I...