288 & CR56
EHRA designed multiple traffic and transportation structures to allow for ease of movement.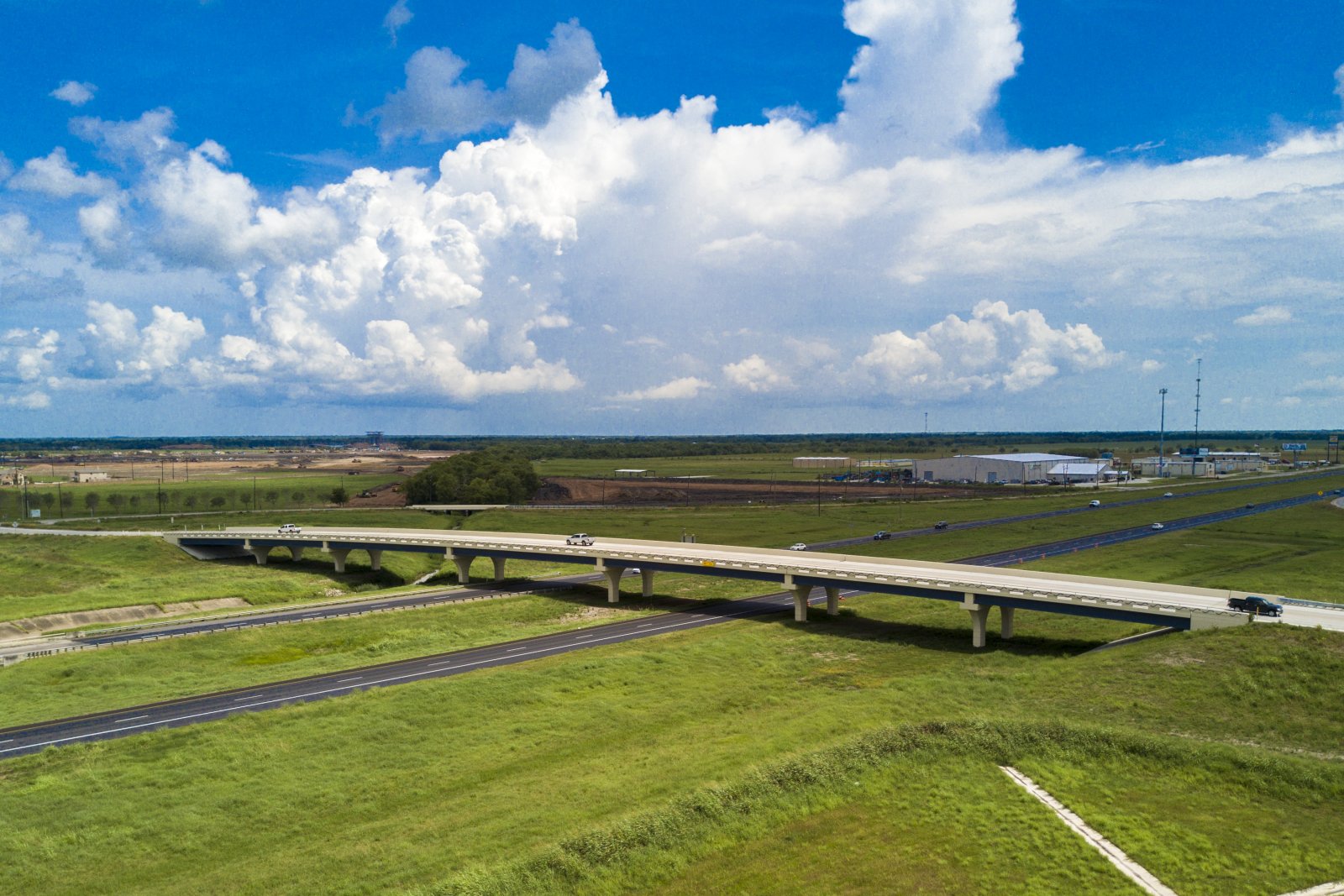 Project Overview
Designs to Enhance Traffic Flow
The purpose of this project was to convert the existing at-grade crossing of Brazoria County Road 56 (CR 56) and State Highway 288 (SH 288) into a diamond interchange that includes a new overpass bridge. Coordination with TXDOT, area landowners, utility companies and Brazoria County was integral in obtaining approval and acceptance of the project. The main design challenge for this project was to accommodate double intersections on the west side of SH 288 to tie into existing access roads with two-way traffic and a new southbound on-ramp within a close proximity. EHRA coordinated with TxDOT throughout the project, from preliminary concepts for the intersection and bridge through final design and construction. Each component of this project was designed in accordance with TxDOT standards and criteria.
EHRA designed a 640-foot long bridge to span SH 288 in accordance with TxDOT green ribbon standards. The purpose of the bridge was to facilitate traffic movement along CR 56 and across SH 288. In addition to the bridge, EHRA designed and prepared construction drawings for the 2-lane frontage roads and intersection design for the project. Roadway drainage was analyzed for the project through hydrology and hydraulic analysis, which resulted in the design of two detention basins required to mitigate the increased runoff from the project. Also, as part of the project, EHRA designed and prepared construction sequencing/traffic control plans and details that included construction phasing, location of construction signs, barricades, drums and speed limits, as well as development of a detour plan for each construction phase. Illumination design was also a part of the project, with a focus on safety lighting at merge and diverge areas. Design included foundations, light poles and their spacing, mounting heights, voltage drop calculations, an electrical wiring diagram, electric service coordination and conduit runs.
SEE EHRA'S LATEST NEWS
23 Mar 2023
On paper, I am a Senior Survey CAD Technician. In reality, who I am, as a person and the work that I do, lies far beyond that measure. I...